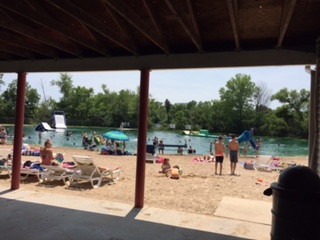 Today I'm working from our local swimming hole, a sweet little place called Troll Beach. It's a sandy bottom pool filled with aquatic water slides and obstacle courses for the kids to burn energy. I get to sit in the lovely little pavilion on my laptop while my son and his friend swim.
As I've been working, I've been overhearing a myriad of conversations around me and one of the conversations caught me by surprise. A group of moms with toddlers congregated nearby for lunch. As they did introductions and forged relationships, two of the women were talking about how they ended up in Madison.
As their stories emerged, it turns out both moved here for grad school and had started their families. The one talked about how her degree was in molecular biology and her husband's in microbiology. I shouldn't be surprised, but I was. Here's a mom with a massively smart degree. Even in today's era, we think smart people are the ones who work all the time and never enjoy time with their families.
I can only imagine the number of people who judge me as I type this blog while sitting pond side. "Look at her, she can't even unplug and engage with her kids." It reminds me there are different portions of our lives visible to others and many portions that are invisible. I need to know the whole person to know the whole story.
As I think back to my career, I see definitive eras. The era of having little ones and working part-time because I CHOSE to work part-time to not miss out on the many changes that happened when they were little. (And if you work or worked full time during your children's younger years, I am not judging you – I chose differently than you, and that's okay.)
This era where my kids are old enough to want to hang with friends, not me, leaving me with the freedom to sit here and type. These eras change over time. It doesn't strengthen or lessen our intellect. It's the result of many circumstances and choices. We all have to chose based on our priorities and values – and all of our choices are legitimate.
I was reminded today to lean into understanding others for all of who they are and to not assume I know something based on the one piece of their life I see.
https://sarahjgibson.com/wp-content/uploads/2017/07/tolls-beach-3.jpeg
240
320
Sarah J Gibson
https://sarahjgibson.com//wp-content/uploads/2016/04/logo-sarah-gibson-2.png
Sarah J Gibson
2017-07-21 13:12:45
2017-07-21 13:12:45
Just What We Don't Expect